Deal

5 course dinner including 3 amuses

€55.00
Located in an authentic building dating from 1647, you will find restaurant Da Costa in Antwerp. In the restaurant, chef David Da Costa wants to take you on a quest for flavors and new combinations.
In the restaurant you can taste everything the chef experiences in his life. This way you can enjoy delicious dishes from, among others, Moroccan and Indonesian cuisine. The sublime service and the phenomenal atmosphere will make for an amazing evening.
Would you like to enjoy culinary delights? Do not wait any longer and book the fantastic 5 course dinner including 3 appetizers for only € 55.00!
Reserve a table
Reserve a table
Reservable till 20 September 2020
Not in combination with other offers
The price of the deal is per person
Only valid for online reservations through www.diningcity.be
What 143 people say about da Costa
Write a review
---
Heeeerlijk gegeten, speciaal, verfrissend en creatief! Prima wijnkeuze en aperitief van het huis is absolute aanrader. Een verborgen parel!
Koen Struyf
at Yesterday
Verified
---
Fantastisch lekkere smaakcombinaties.
Supervriendelijke gastheer.
Menu met aangepaste wijn is sterke aanrader. Hier komen we zeker nog terug.
Annelies
at 01 August 2020
Verified
---
Uitstekend! uitzonderlijke persoonlijke, sympathieke en charmante bediening, prima en geschakeerde maaltijden en prachtige keuze van de wijnen, het minpuntje: daar de chef en de ober er alleen voor stonden voor 29 couverts waren er soms te lange wachttijden tussen de gerechten (misschien een jobstudent aannemen en de prijs met enkele euro's verhogen???)
Walter De Cauwer
at 28 July 2020
Verified
---
Schitterend. Zeer lekker gegeten. Prima bediening en zeer goeie uitleg van de aangepaste wijnen. Ook BOB wijnarrangement is mogelijk. Top. Hier komen we zeker terug.
Christian Siongers
at 27 July 2020
Verified
---
Lekker eten en vriendelijk personeel 👌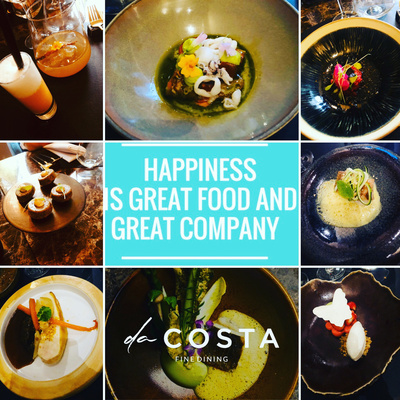 Dave Tilkin
at 26 July 2020
Verified
Mechelsesteenweg 74 1170 Antwerp
About da Costa
Since September 2019 David da Costa, together with his wife, owns a brand new restaurant in Antwerp. From his first job he knew that cooking was really his passion. Started as a help in the kitchen and now his own restaurant. This did not just happen, David has gained experience at the Lindehof**(Nuenen), Pure-C**(Cadzand), Vane Restaurant (Eindhoven), among others.
In his own restaurant, the ambitious couple will take you on a journey to new tastes and combinations. This is how he translates Asian cuisine and his wife's Moroccan Roots are reflected in the menu!
Restaurant da Costa is a pearl that not everyone has discovered yet, book now and enjoy a culinary experience!
Reserve a table
Reserve a table