What 31 people say about Bistro Philippe
Write a review
---
Mooie zaak, prima service en geweldig lekker eten. Dat verdient een pluim!
PF
at 15 March 2020
Verified
---
Zeer toffe bediening en het eten was af 😊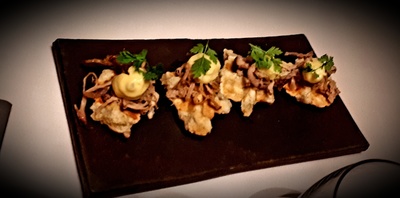 Marc Fels
at 15 March 2020
Verified
---
Waren aangenaam verrast .
Top 👌🏽
Sabrina Allegria
at 12 March 2020
Verified
---
"Topper in Alken."
Heerlijk gegeten. Duidelijke uitleg bij alles wat je krijgt.
Carine
at 08 March 2020
Verified
---
Zeer lekker en heel erg vriendelijk. Er wordt ook rekening gehouden met de vragen van de klant!! Mensen met een hart voor hun levenswerk!
Christel H
at 08 March 2020
Verified
About Bistro Philippe
As a chef, Philippe Lowette already earned his stripes with Caterer Philippe, who he and Sarina set up. The catering business was recently refreshed and expanded with a new store, a selection of cheeses and seasonal meat. In addition, their business was given a modern extension that was stylishly and modernly furnished by the couple. Bistro Philippe stands for casual culinary pleasure at a very affordable price.
After his training, chef Philippe worked in well-known restaurants such as Saint-Paul, Figaro, Taratata and did an additional internship at The Jane in Antwerp. In their restaurant you can enjoy a very attractive 3-course lunch. On Wednesday, Friday and Saturday evenings, you can taste a nice menu with seasonal dishes in 3, 4, 5 or 6 courses at Bistro Philippe. Add smooth and attentive service and you are guaranteed to be in the right place!
Reserve a table
Reserve a table