Franco Belge
4-gangen Gault&Millau menu
Deal

4-gangen Gault&Millau menu

€ 42,50
Restaurant Franco Belge is trotse bezitter van 14 Gault&Millau punten en behoort daarmee tot de beste restaurants van België.
Tijdens deze editie van Dining with the Stars serveert Franco Belge een fantastisch 4-gangen Gault&Millau menu aan slechts € 42,50. Proef nu dit gastronomische menu en ervaar een unieke culinaire middag of avond.
Heeft u speciale dieetwensen? Op het reserveringsformulier kunnen deze wensen worden aangegeven zodat het restaurant daar rekening mee kan houden.
Reserveer snel en eet de sterren van de hemel tijdens Dining with the Stars!
Let op! Het aantal tafels is beperkt. Online reservering is verplicht.
Reserveer een tafel
Reserveer een tafel
Te reserveren t/m 31 oktober 2020
Niet icm met andere acties
De prijs van de deal is per persoon
Alleen geldig bij online reserveringen van www.diningcity.be
Wat 59 mensen zeggen over Franco Belge
Schrijf een review
---
Een echte aanrader. Komen hier zeker terug
Lien De Ruyver
op 16 oktober 2020
Geverifiëerd
---
Het was super lekker!!!!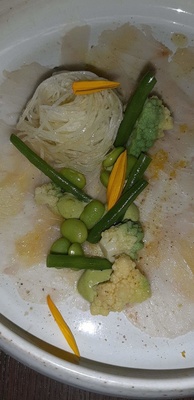 Michele Stoquart
op 16 oktober 2020
Geverifiëerd
---
Het eten was top. Bediening aan tafel kan beter, het uitschenken van de drank ging aan hoog tempo met gevolg dat er druppels wijn naast het glas vlogen. Ook moeten zeggen om wat meer tijd tussen de gerechten te laten. Apero was nog niet op of het 1ste gerecht was er al. Maar we komen zeker terug.
Frederic
op 16 oktober 2020
Geverifiëerd
---
prijs kwaliteit top
henri
op 15 oktober 2020
Geverifiëerd
---
Een nieuwe ster is geboren
Verlie
op 15 oktober 2020
Geverifiëerd
Langestraat 109 8000 Brugge
Over Franco Belge
Wanneer u een bezoekje brengt aan Restaurant Franco Belge, weet u gelijk al wat er te wachten staat: de traditionele Frans-Belgische keuken met een hedendaagse twist. Om het toch nog spannend te houden, maken de chef's af en toe een uitstapje naar andere (internationale) keukens.
Dries Cracco en Thomas Puype zijn jong, getalenteerd en boordevol goesting. Hun gedeelde passie voor het vak en hun liefde voor de verfijnde keuken zorgt voor een stevige band tussen de chef's.
Het interieur van het restaurant is uniek. Het straalt de authenticiteit van het Oude Brugge uit met een smaakvolle en trendy strakheid.
Reserveer een tafel
Reserveer een tafel