What 39 people say about Poort 82
Write a review
---
Geweldig , uitmuntend eten, vriendelijke bediening een meer dan geslaagde avond.
Maria Gielen
at 15 March 2020
Verified
---
Eten en bediening waren top!
peter
at 10 March 2020
Verified
---
"een absolute aanrader!"
Heel fijne ervaring : 
- schitterend interieur
- heerlijke en voldoende gerechten
- fijne bediening
- perfect bijhorende wijnen
- en ook leuk dat de chefkok zich even laat zien.
- jammer dat het niet zo druk was (coronavirus)
lieve vanmuysen
at 09 March 2020
Verified
---
"Voor herhaling vatbaar ! "
Zeer vlotte bediening, lekker eten, leuke setting.
Petra Wijnen
at 09 March 2020
Verified
---
"De gastvrouw was top!"
Super lekker! Leuk muziekje, bediening door gastvrouw was top.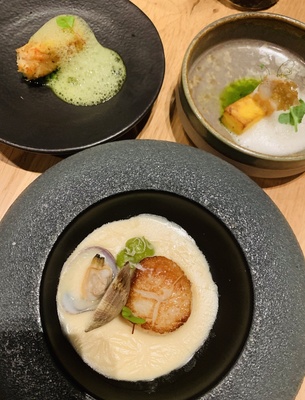 Bowe
at 07 March 2020
Verified
Dokter Haubenlaan 82 3630 Maasmechelen
About Poort 82
Poort 82 is a gourmet tapas restaurant where you can dine in an attractive setting. The ultimate combination of cosiness and gastronomy. The building used to serve as an antique shop. The restaurant has retained the high ceilings, the wooden beams and the warm character of the building. Add a touch of industrial and the soul of the restaurant is described. Poort 82 is a total experience where enjoyment is central.
Business manager Myrthe Vranken will welcome you with a sincere smile. Her personal and casual approach colors the atmosphere of the restaurant. The chef relies on worldly cuisine and blends the best of all continents into a beautiful whole. Guus Coppens is happy to release his creations.
Reserve a table
Reserve a table