What 376 people say about Kokarde
Write a review
---
Heel lekker eten met betaalbaar wijnarrangement. Vriendelijke bediening
Daniël Dauwe
at 05 February 2020
Verified
---
Voor de tweede week op rij genoten van een lekkere lunch. Lekkere koolvis als voorgerecht en superlekker speenvarkentje als hoofdgerecht.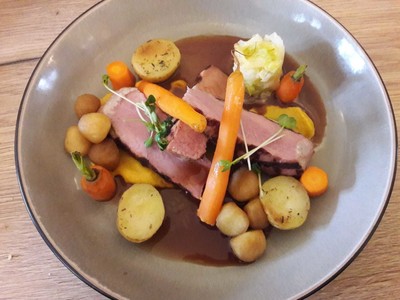 Marc Smekens
at 02 February 2020
Verified
---
"Lekker gegeten in aangenaam kader"
Lekker menu gegeten, ruime porties, mogelijkheid om lekkere aangepaste wijntjes te kiezen. Komen zeker nog eens terug om buiten te tafelen!
Nancy
at 01 February 2020
Verified
---
prijs kwaliteit heel goed
bruno van de voorde
at 30 January 2020
Verified
---
"Super"
Prima zoals gewoonlijk.
Roger
at 30 January 2020
Verified
Grote Markt 9-10 9200 Dendermonde
About Kokarde
In the centre of Dendermonde on the Grote Markt, lies a beautiful, classified old mansion. Here you will find Restaurant Kokarde where you can indulge in culinary delights. The cuisine is French-Belgian, supplemented with spicy seasonal suggestions in a trendy outfit. The well-prepared business lunch and the changing monthly menu are particularly sought after. The building has been divided into different rooms and spaces to create a cozy and intimate atmosphere. At the first ray of sunshine it is double enjoying all these goodies on the beautiful sun terrace with a view of the Dender ...
Reserve a table
Reserve a table